Local Weather
27°C
Humidity: 50%
Wind: NE at 11.27 km/h
Tuesday
26°C / 29°C
Wednesday
25°C / 29°C
Thursday
25°C / 29°C
Bus Times
CORFU ⇨ PENTATI
Monday to Friday: 6:00, 14:00
Saturdays: 6:30*, 14:00*
Sundays: -
PENTATI ⇨ CORFU
Monday to Friday: 7:00, 15:00
Saturdays: 7:45*, 14:40*
Sundays: -
Pentati, Traditional Fishing Village In Corfu, Greece
The village of Pentati is a small, traditional fishing village on the west coast of the Greek island of Corfu. Situated 200m above sea level and over-looking the famous Ortholithi rock. Pentati is within walking distance of the bustling holiday resort of Agios Gordios and only 18km from Corfu Town. Pentati is well known for its annual Sardine and Fish Festivals that take place at the old school but not so well known is its long historical asscociation with pirates and smugglers.
Pentati has a population of some 300, mainly employed in agriculture, fishing and tourism. The villagers are warm and friendly but recent years of austerity in Greece have taken their toll. Times are difficult and it is part of the Village Project's plan to bring more visitors to this lovely, traditional village.
Pentati Pirate Travelbugs
The first of our pirate geocache trackables Pirate Muggin' Oggin Molley is fast making new friends! Where will they take him? Which treasures will he discover on his travels? Use this link https://coord.info/TB4TXZK to follow his adventures around the world.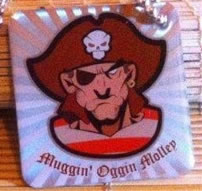 Pirate Gunnin' Bill Blaster will be the next to leave, eager for adventures of his own.